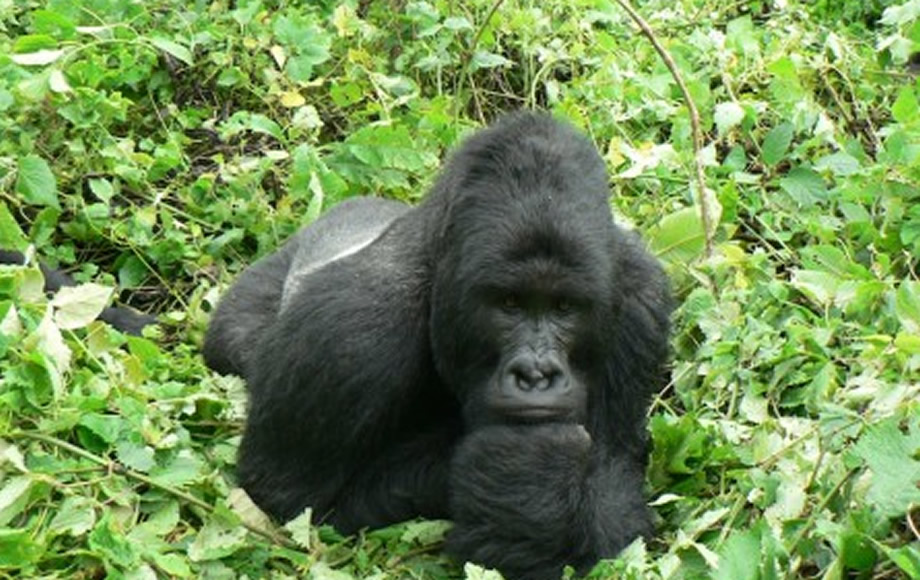 Virunga National Park offers a mountain gorilla haven; these massive primates are extremely rare, with less than 880 left in the world. The budget gorilla trek is amazing and quite expensive but not compared to the neighboring countries of Rwanda and Uganda. It is a nice experience when you know that the Virunga Park lives from these gorilla permits.
Gorilla trekking in the Virunga National Park starts in the morning at Bukima ranger post in the foothills if Mikeno mountain and involves hiking in the forested jungle of the park in the company of armed guides and rangers. Along the way you will view volcanoes through the mist as well as farming villages. The countryside is green & beautiful especially when you start the long climb up the side of the volcano to reach the ranger station. The guides and trackers know the animals well & work hard to hack away the thick vegetation so you get excellent views of these magnificent animals. It is a privilege to be in their presence.
Gorilla trekking is one of those rare experiences that live up to the enormous hype. Unlike the Nyiragongo Volcano trek, the hike through the jungle here is very easy at least 2 – 3 hours and it can be a lot of effort for something very weather dependent. With the gorillas you are pretty much guaranteed to see them as the park rangers trek the different groups constantly.
Virunga National Park is a wonderful park and the rangers do a fantastic job with the tour and protecting this highly threatened treasure. I did the Nyiragongo hike and the gorilla trekking. The mountain gorillas are obviously amazing to see in the wild and from only a few feet away. Nyiragongo is simply put unforgettable.
Amazing experience, walking through the park with the rangers looking for the gorillas allows you get so close to these amazing creatures. These giants are quite calm and welcoming. There are several gorillas' families; you will see one of them for exactly 1 hour. That's the maximum time you can spend with gorillas. It´s an amazing experience seeing them in their natural habitat; they are calm, curious and seem not to be bothered by a human company. All the time you will be accompanied by a park ranger, he will give you instruction about how to behave next to gorillas and some safety instructions.
Virunga Park is a place that will make your dream. The great secret with Congo nature is, there is unique species of animals you can't find anywhere else. Come and dream with Virunga National Park. With the various numbers of lodges opening up in the Virunga National Park it has become so affordable to take Congo tours including gorilla treks, mount hiking and the chimpanzee habituation the Virunga massifs.