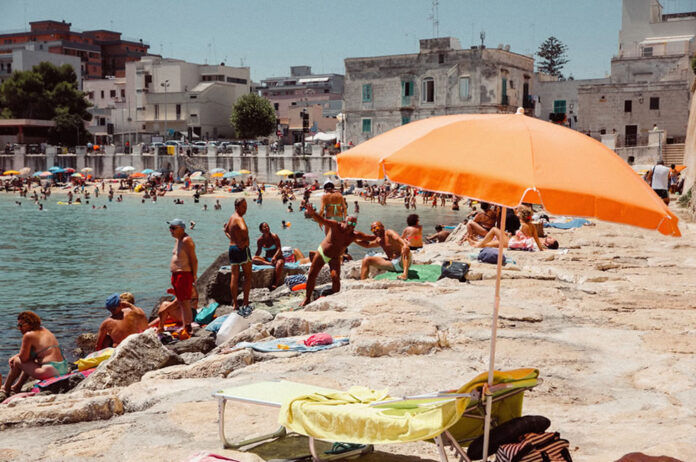 Yes, it's still nippy out. But don't despair — here are Europe's finest expanses of sand, where the sun shines and sea shimmers ;
20. Holland: Terschelling dunes, Frisian Islands
The Frisians are little more than a string of sand bars along the northern coast of Holland. On Terschelling, 20 miles of hourglass-fine sand and marram grass dunes offer a surprising sense of wilderness for such a densely populated country. Huge skies, low-tide mudflats and biblical sunsets will all return you to your senses, while a network of mountain-bike tracks makes getting to the remotest beaches easy, even at the height of summer, when all-night beach parties and wild camping make this island popular with Holland's hippie youngsters.
Best for: cyclists, nudists, party freaks.
19. Germany: Sylt
Like the Swiss navy, the German Riviera sounds a bit of a joke, yet here it is, and it's great. Sylt, a sandbar in the North Sea, is remote — so far north it's almost more Danish than Deutsch — but the cloud-dappled skies, rearing cliffs, floury sands and Michelin-starred cooking have seduced the likes of Claudia Schiffer and Boris Becker. The supermodel-good-looking stretch is below the giant Uwe Dune, at Sturmhaube/Rotes Kliff — here, Sylt's signature basket chairs (Strandkörber) come with holders for champagne glasses. Swim, stroll in the surf, collect shells, and end up just north at La Grande Plage (grande-plage.de) around sunset for foaming pils and fries.
Best for: nature-lovers, gourmands.
18. Lithuania: Palanga
This is a cracking little resort town with a white, sandy beach, pine forests, sand dunes and fizzing nightlife. There are dozens of bars and restaurants along pedestrianised Basanaviciaus Street, everyone speaks English, and it's as cheap as you'll find in Europe. Behind the beach are the dune-side Botanical Gardens and a terrific amber museum, while the big day out is a drive down the Curonian Spit, a fragile frond of sand dunes, forests and villages. Head here between mid-June and mid-September, when temperatures are in the high twenties.
Best for: a beach party with a difference.
17. Madeira: Porto Santo
It's simple. The southern shore of this tiny island is five miles of pure gold. You walk, slowly, with sand between your toes, getting tanned by the strong southern sun and cooled by the gentle breeze from the Atlantic. About 400 miles to the east, beyond blue waters warmed by the Gulf Stream, is Casablanca. A few miles to the southwest, and more accessible, is Madeira. There's a museum dedicated to Christopher Columbus; if you think that sounds interesting, think again. The beach is the island's only selling point — but that's more than enough.
Best for: two hand-in-hand romantics.
16.Cyprus: Polis
If you want to kick back, chill out and detox without paying a fortune, this is the perfect spot. Fringed with eucalyptus trees that come down to the (pebbled) shore, it is about a mile from Polis town and has a ramshackle taverna serving decent food and beer, a spotless ablutions block and, er, that's it. Most people camp: Swiss Family Robinsons let the kids run among the trees (mercifully free of climbing frames and swings); stranded hippies potter among the rocks. Avoid high season (it becomes a local teenage party spot) and visit in September and October, when you'll be able to enjoy it at its sparsely populated, charmingly alternative best.
Best for: detoxing on a shoestring.
15. Greece: Papafragas Cove, Milos
Milos is one of the least known Cyclades islands, yet it has some of the chain's most stunning beaches and snorkelling locations. It's a working island, geologically diverse, with weird rock formations and hot springs galore, and the coastline is indented with secret lagoons, grottoes and crystal-clear fjords. At Papafragas, a narrow strip of sand leads down to an aquatic chasm beneath high white cliffs. Swim through the calcite-encrusted sea caves or, if you're feeling daring, climb up and practise jumps and dives from the giant rock archway above. Smooth, white rock ledges are perfect for sunbathing afterwards.
Best for: wild swimmers, wilder jumpers.
14. Greece: Panormos, Mykonos
Of course, everybody comes to Mykonos for the action — the sunset hour at Little Venice, when swollen crowds lift G&Ts in unison, and the mad nightly carousing. Trouble is, when you need to recuperate next day, the most popular (southern) beaches can be an awful squeeze. Bohemian Panormos, on the northern coast, is relatively overlooked (possibly because it's a £9 cab ride from town), but it's a winner: a breezy sweep the colour of Wall's vanilla ice cream, its dunes discreetly dotted with nudes. Add a hippie-chic shack, the Panormos Beach Bar (www.panormosbeach.gr), and a few Frisbees, and you could be here all summer.
Best for: club casualties, claustrophobes.
13. Croatia: Bonj 'Les Bains', Hvar
This supercool beach club (sunbeds £24pp, cabanas from £31pp) on Croatia's trendiest island is about scene, rather than sand — you step straight from its graceful bathing deck into the turquoise waters of Amfora Bay. The pure-white 1930s colonnade, shaded by scented pine stands, was built so the jet set had somewhere to strut while soaking up the stunning views of the surrounding Adriatic isles. These days, Kevin Spacey and Giorgio Armani help ensure that the vibe remains ultra-glam. Sunbathe, swim, book a seafront massage or nibble sushi on the muslin-draped teak terrace. It's like a tiny slice of St Tropez without the sleaze.
Best for: stars, star-spotters.
12. Sardinia: Cala Luna
There's an argument that you should hike to Cala Luna. True, it's nearly four miles, in baking sun, and you might lose focus and fall off a 300ft cliff, especially if you go gaga over the died-and-gone-to-heaven views. But what's the point of hearing about discovering a roadless cove like this, then hopping on a tourist boat to get there? The beach is in sleepy eastern Sardinia, and it's a half-mile crescent of spotless sand strung with pink oleander and pitted with romantic grottoes. Cars conk out at Cala Fuili, four miles north — hence that panoramic (if mildly precarious) hike. The boat? Oh, all right, then: it glides down daily in summer from Cala Gonone, the nearest resort (from £12 return).
Best for: climbers, cavemen, castaways.
11. Capri: Blue Grotto
The coastline of Capri is backed by high cliffs and studded with pebbly coves, rocky ledges and sea caves, as befits the legendary home of the Sirens. The most famous cove is the Blue Grotto, which provides a route into a deep cave and lagoon where sunlight reflected through the crystal water casts an ethereal, mesmerising glow. You can join a boat trip from Anacapri or rent your own rowboat, but the adventurous swim in, late in the day, after everyone else has left. Magical.
Best for: sirens and romantics.
10. Balearics: Platja Illetes, Formentera
A test of resolve, this one: the further you can carry your coolbox, the greater the rewards, because Illetes spit just gets quieter and quieter. To be fair, no beach on Formentera is busy — the Balearic island makes Shetland look congested — but Illetes's northerly coves are particularly peaceful, as there are no facilities beyond the final cafe and clothing becomes optional. That doesn't mean it's only the sandals-and-sandwiches brigade here. There's a good mix of young families, bikinied beauties and cossieless locals. Clothed or not, they all come for the sandy nooks, lagoon-still sea and unpretentious atmosphere.
Best for: grown-up sun worshippers, little splashers. Details: you can't stay on Illetes.
9. Balearics: Las Salinas, Ibiza
All sand dunes and surf, located in a nature reserve, this mile-long, bow-shaped stretch of beach has long been a favourite with the island's hipper crowd. From the yachty-totty mooring up for lunch at the Jockey Club to the club dancers who descend in the afternoons to top up their tans, this is the place for people-watching. On arrival, turn left and keep walking until you reach Sa Trinxa. Owned by an Ibiza stalwart, Jon Sa Trinxa, — who is often to be found providing the hazy soundtrack, too — it's the perfect place for a jug of sangria and a dance in the sand, while a smattering of "fashion nudists" (it's all about the piercings) makes for an adults-only atmosphere.
Best for: fashionistas, hippies, hedonists.
8. Costa Verde: La Concha, San Sebastian
Boisterous but beautiful, Victorian La Concha is the Basque country's (rather more sophisticated) answer to Eastbourne. Elderly Spaniards walk back and forth in the surf while young kids play football on the sand, then eat ice cream with the hunger of POWs. There's plenty of room for everybody: the caramel-coloured strip of sand is as wide as a runway and nearly half a mile long, or you can walk the paseo alongside mahogany-skinned joggers and inline skaters. It's a buzzing beachside scene, but with a classic terraced backdrop — like Dickens in the sun. All this in a small town that also happens to have the best food in Spain (15 Michelin stars shared between eight restaurants).
Best for: foodies, traditionalists.
7. Costa Brava: Cala d'Aiguafreda
Few find this jewel, buried at the bottom of a steep single-track lane just north of Begur. The name comes from the sparkling freshwater stream that flows into the sea here, and the tactic is to ignore the tiny armpit of grit that passes for a beach and find a spot on the flat, sun-warmed rocks that embrace the north side of the inlet. From here, after placing your bottle of rosé to cool in a shaded rock pool, you can dive into deep blue waters as still and clear as a glass paperweight before drying off in the resin-scented shade where pine forest meets sea.
Best for: sand-hating lovers.
6. Corsica: Palombaggia
The TV advert for this beach might say: "There's clear, then there's Palombaggia clear." The water here puts the Seychelles to shame. What a backdrop, too: pine forests right up to the sand, craggy rocks like natural piers into the sea, sandy cafes serving moules and vin blanc for lunch. As with any French paradise, consider August off limits — better to go in late summer, as Corsica stays warmer for longer — but limited parking among the pine trees means that some parts of the beach are quiet even in high season. Take your camera: if you cut out the French cafes, people will think you went to the Maldives on your holidays.
Best for: those still saving to get to the Indian Ocean.
5. Provence: Notre Dame, Ile de Porquerolles
"The French Riviera is concreted over. It's spoilt." Such is sophisticated wisdom. You can ponder these words at Notre Dame as you twiddle your toes in water so clear, you can see every twiddle. Before you, a yacht or two bobs about. The beach makes a pretty much perfect arc of perhaps a mile. Pine trees come down the rocks to stop at the edge of the fine sand. There is neither beach bar nor building — if you want a beer or people, they are two miles by foot, back along the track in the port/village. Concrete France lies in another dimension, 20 minutes away by ferry. Twiddle some more, and reach the inescapable conclusion: the only thing that's spoilt around here is you.
Best for: Barefoot dreamers, recovering cynics.
4. Provence: Piemanson beach, Camargue
The road to Piemanson snakes through marshland, around lagoons and saltpans, to what seems the isolated edge of the known world, and in summer, a strange and motley crew follows it: travellers and fringe artists, French working families, naturists and others with needs not answered by hotel half-board. Before the dunes, the sands teem with camping cars, caravans and fast-built shacks. It's a cross between a rock festival and the Final Frontier holiday camp, all dwarfed by the vastness of the elements. The breeze of freedom round bathers and barbecues blows away concerns about facilities (none) and legality. Or it did. Now distant authorities are threatening to clear out any wild campers from 2011, in the interests of eco-neatness. The beach will remain savagely grandiose, but this could be its last year for Europe's freest seaside holidays.
Best for: the unkempt, convivial and mildly lawless.
3. Languedoc: Collioure
So seductive is tiny, cobbled Collioure and its small, rocky bay, history claims it cured Matisse of artist's block — after he visited in 1905, his colour schemes rocked up a notch and his work was never the same again. Now you can't move for chic art galleries selling his prints and rickety postcard racks rammed with his renditions of the seaside town. Avoid August, when Collioure is mobbed by the French; June and September are quieter, and it's still hot. Classy, too, with seafood restaurants on the hills overlooking the bay, and small waterfront hotels with ladders to take guests right into the clear water.
Best for: highbrow holidaymakers.
2. Pyrenees: Lac de Mondély
Have you noticed how salty the sea is? Makes you sticky. It's foul to swallow, too, which you can't help doing because of the waves. And don't get me started on wetbikes. Now swap the sea for a lake, and watch the picture change. Clear, fresh water, nothing but your own lazy backstroke to disturb the mirror-calm surface, stirringly wild surroundings and a seaside-standard sandy beach. That's superb, secluded Lac de Mondély.
You can walk right round it in an hour or two on an enchanting path, creaking with crickets, a-flutter with butterflies; swim across the narrow middle in 10 minutes, feeling the warm and cool currents swirling silkily around your knees; or lie back with the smattering of sunbathers on the 150yd strip of soft sand and wonder why everyone else rushes off to that big ocean thing. It's a mystery.
Best for: nature-lovers, crowd-haters, toddlers (lovely warm shallows to splash in).
1. Brittany: Plage Conguel
At the southern tip of the Quiberon peninsula, far from Brittany's crowds, lies Plage Conguel, a necklace of blonde sand surrounding a rocky point that, one day, like Quiberon itself, will succumb to the waves and become an island. With one side facing the Atlantic swells and the other overlooking sheltered Quiberon Bay, you can choose belle or sauvage, and at high tide the beach becomes a series of family-sized rocky coves, with views across to Belle-Ile.
Best for: beachcombers, castle builders.