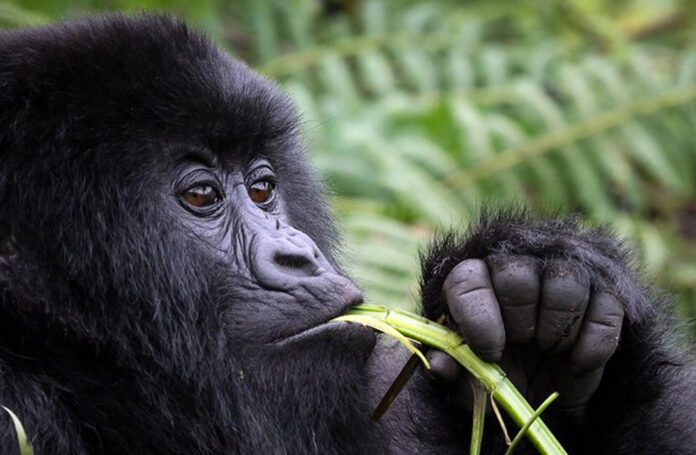 The natural volcanic slopes are house to the endangered species of Mountain Gorilla. In Uganda these primates can be seen in Volcanoes National Park. Among tourists who visit Africa, there might be only a handful who would not want to have a glance on these endangered creatures on a carefully planned gorilla safari in Uganda.
The Bwindi Impenetrable  Forest is the place where trained experts from Safari Hub are going to take you to achieve Gorilla Trekking. Now before you go to visit these Gorillas you must remember that not all of them are equally friendly in their behavior towards visitors. Certain families of these Mountain Gorillas have been made to be habituated with visitors.
Now in order to visit the Uganda mountain gorillas you need to obtain passes or permits which are mostly included in your package fees that you pay to the Safari Hub.This has been aimed to reduce random visitors just irritating these primates. Also the major part of money from these goes to the welfare of the Gorillas. You can have a closer scrutiny at their way of life, their activities and thus come to know about them in details. Usually you would not find them in gangs everywhere round about. They will be scattered throughout the thick vegetation.
There are many Gorilla families in the Bwindi Impenetrable Forest. They are the Susa Family, sabyinyo family. Many other groups like Amahoro, Umubano and Amasha are also noteworthy.
Africa Tours Adventure has the popular package of Best of Rwanda and Uganda. In this package the most amazing experience that you will have is this Gorilla Trekking mentioned above. This package is a 11 days tour. In these 11 days you will get to visit those destinations in Rwanda and Uganda that are not only world renowned but also completely fulfilling in itself.
When you complete the tour you will be left with memories that you are going to relish throughout your life. The safari starts from Kampala. All the tourists are guided to reach the Entebbe International Airport. The next day you will be taken to the Murchison Falls National Park. Here you will have a beautiful view of the rhinos. The rhino Sanctuary is present here. This is also an equally thrilling experience.
On the next 3 days you will be taken to the Kibale National Park and Queen Elizabeth National park. These wildlife hubs are also well known throughout the world for the varied and immensely dense populations of primates many of which are exclusive to only this part of the world. The other destinations which are included in this Safari Package are twin lake and mgahinga National park.  So you can very well understand how thrilling the entire adventure is going to be
Africa Tours Adventure is very passionate about Africa and it's rich natural heritage. It is aimed at providing the tourists the best possible services. Premium quality services at affordable range makes tourists prefer Safari Hub. As for the Gorilla Trekking experience, the expert guides who are going to accompany you will help you to have the best possible experience.