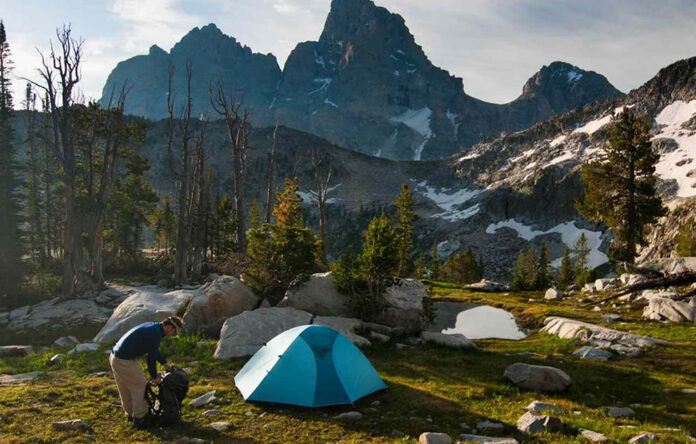 Camping holidays are not for everyone, but those who do enjoy them can have the time of their lives and make the most of what is actually a very low-cost holiday. If you want to travel across the U.S. you could find yourself spending a lot of money on hotels, but you can dramatically cut this cost if you are prepared to spend time under canvas.
It should be noted that in the U.S. the campsites are usually government-owned, particularly those that are located in national parks and forests, although there are others that are privately owned. It is worth booking a pitch in advance although there are some sites which are dealt with on a first-come first served basis so you take your chances that they have pitches available. It is rare that a campsite will charge more than $25 per day for a pitch but the cost will depend upon the demand and the season. There are some which are even free at certain times and these are worth hunting out.
Amenities at the sites will depend upon whether or not it is listed as 'developed' or 'improved'. A site which is listed as developed will only have sites for tents and maybe an area for a campfire. Improved sites have plenty of extras such as drinking water, toilets and showers. You will also need to take into consideration if a site is accessible. There are some which are listed as backpacking sites simply because they can only be reached on foot.
Organized camping tours
It is possible to join organized camping tours of the U.S. These will allow you to spend more than one night in each place so that you have the opportunity to enjoy as much as you can while you are there. These tours make the most of sites which have all the amenities that you need although there are some occasions when wilderness camping is an option. These tour operators will provide you with all the equipment that you need for your stay including tents, sleeping pads and even portable kitchens although you may need to bring a sleeping bag.
One of the advantages of the camping tours is that you get the chance to try lots of different activities. There are trails that you can hike or you can spend time horseback riding. Mountain biking and canoeing are also popular activities. In order to be able to take part in these activities you will need to make sure that you are physically fit but you do not have to have any experience as there are qualified instructors on hand to help you out. Other options include snorkeling, trekking on glaciers and taking helicopter rides. It should be noted that these activities are usually optional extras and will need to be paid for separately.
Places to visit
So which parts of the U.S. can you expect to visit? The country has everything and the landscape changes dramatically as you cross the country. The U.S. has some of the best national parks in the world and you should be making a beeline for these areas if you want to take in some of the country's most dramatic scenery. For camping with a difference opt for sites that are near some of the cities.
Yellowstone National Park is a firm favourite with campers. It has the distinction of being the first national park in the world and it actually covers three different states. Many people come to see the geothermal attractions such as Old Faithful and the wildlife. The Grand Canyon National Park is located in Arizona and the canyon itself has been formed with the help of the Colorado River over the course of thousands of years. Helicopter flights are available over the canyon and these are a must in order to make the most of the impressive views. Another popular national park is Monument Valley. This is closely associated with the Navajo people and the area can be explored by 4X4. Traditional song and dance is used to entertain campers who come to the park.
If you are taking an organized tour you need to check in advance what is included and what you will need to bring with you. If you are organizing your own you need to find out what facilities are available at the campsite and plan accordingly. Planning your own camping trip means that you are not really tied by any schedule and you can travel across the country at will.