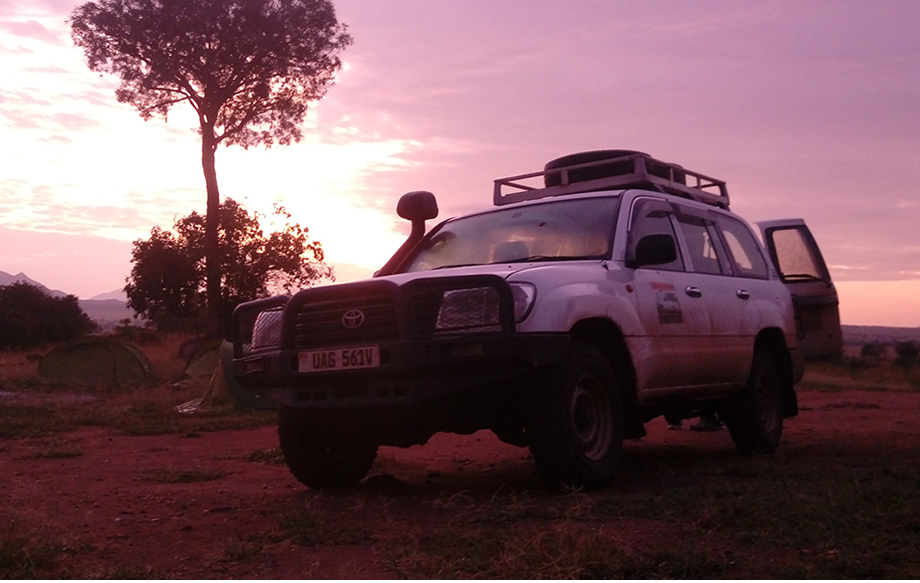 If you are travelling to Rwanda and Uganda whether on an escorted safari or self drive, business, or leisure, one of the things you should consider is getting around cities and villages to explore these countries. If you are looking for the best deal on your Uganda, Rwanda, Kenya, Tanzania and Burundi Safari, we offer you the cheapest deals from 4×4 Car hire Rwanda cars from our own fleet. Self driving is one of the best ways to see a country as it allows for complete flexibility and you can go where you like, stop where you like and ultimately explore at your own pace.
You can pick up yourself 4×4 car from Kigali and drop off at Entebbe, Nairobi or Arusha for example. With driver rentals are also offered at very competitive rates. All our vehicles have fully working AC, in good condition, well serviced, Unlimited mileage and Comprehensive insurance in case of Fire, accident and theft. However, this insurance does not cover the occupants and their belongings so you must come with your own personal life insurance. Cross border COMESA fees expense is met by clients at a cheap cost $ 35 USD at the border. For our self-drive and with driver rentals, we provide camping gear for rental to assist you manage yourself drive holiday budget better.
In Rwanda and Uganda, book your rental car through Car Rental Rwanda or Uganda for a magical hour with the gentle gorilla giants of Volcanoes National Park in Rwanda and Bwindi/Mgahinga Gorilla National Parks in Uganda. Uganda has some of the most awe-inspiring game viewing opportunities in the world like in Queen Elizabeth National Park, Murchison falls, Kidepo Valley among others. Birders would have a mega-feast here. Rwanda, the Land of a Thousand Hills, offers unique travel experiences with its gorillas, clean beaches, game drives in Akagera, and chimpanzee tracking in Nyungwe National Park, rich cultural history and genocide memorials.
We provide gorilla permits purchase service for self-drive Rwanda and self-drive Uganda tour clients, in Kenya and Tanzania. The wild beast migration through the Maasai Mara and the Serengeti respectively. We offer guided safaris or if you prefer to proceed at your own holiday safari pace, take a self-drive 4×4 vehicle from us and enjoy a memorable self-drive holiday tour. In Tanzania the Serengeti is a massive open Africa wild teeming with wildlife.
Uganda's biggest tourist draw is of course the mountain gorillas, but these aren't the country's only great apes. Humankind's closest relative, the chimpanzee, is found in a number of areas of Uganda. Some of these groups have been habituated to human contact in the same way as the gorillas, and although their more energetic lifestyle and unpredictable nature makes them slightly less approachable, there's no doubt that hanging out with chimps is one of life's great experiences.
Kibale National Park is a national park in southern Uganda protecting moist evergreen rain forest. It is 766 square kilometers (296 sq. mi) in size and is located between 1,100–1,600 meters (3,600–5,200 ft) in elevation. Despite encompassing primarily moist evergreen forest, it contains a diverse array of landscapes. Kibale is one of the last remaining expanses to contain both lowland and montane forests. In eastern Africa, it sustains the last significant expanse of pre-montane forest.The park was gazetted in 1932 and formally established in 1993 to protect a large area of forest previously managed as a logged Forest Reserve.
At Kibale Forest National Park, visitors can join daily chimp-tracking walks. These normally last around three hours with a maximum of one hour spent with the chimps. Or, for those who want a more in-depth, personal immersion (group size is strictly limited); you can arrive at the park's visitor centre in the pre – dawn gloom to set out on the Chimpanzee Habituation Experience. This guarantees a full day with the chimps; tracking them as they crash through the undergrowth or swing through the tree tops, dozing as they doze and, if you're very lucky, feeling your heart race in excitement as the apparently playful chimps turn determined killers on the hunt for monkeys.
Kibale might be the most popular place in Uganda in which to view chimps but it's far from the only option. For alternative chimp experiences check out this other parks and reserves:
Budongo Forest Reserve: The Budongo Forest Reserve is up in the northwest of Uganda and is often overlooked by tourists, yet its dark and dense forests are considered one of the better places to play with chimps. Two- to four-hour chimp-tracking trips (you only get one hour in their company) run daily and, as at Kibale, between October and June.
Queen Elizabeth National Park: The gold-tinted Savannah grasslands and tangled forests of Queen Elizabeth National Park are best known for their tree-climbing lions and the hundreds of hippos that wallow in the waters of the Kazinga Channel. Not so well known is the park's population of chimps, who frolic about the 100m-deep Kyambura Gorge. Although the chimps are habituated to humans, there's no guarantee they'll show up for the party. However, when they do, the low number of visitors means you'll probably have them much to yourself.
Toro-Semliki Wildlife Reserve: this reserve is near the Congolese border, the diverse Toro-Semliki Wildlife Reserve offers quieter, and less certain, chimp encounters than nearby Kibale. However, the lighter forest cover means that sightings tend to be clearer and the chimps here also frequently venture out into open Savannah, where they are more likely to walk upright. If you're lucky enough to witness this then you'll really feel as if you're watching animal evolving into man.
Ngamba Island Chimpanzee Sanctuary: so it's hardly a genuine wilderness encounter, but if time is limited and you're confined to the Kampala region then this Lake Victoria island a short way south of the capital, is home to around 40 orphaned or rescued chimps.