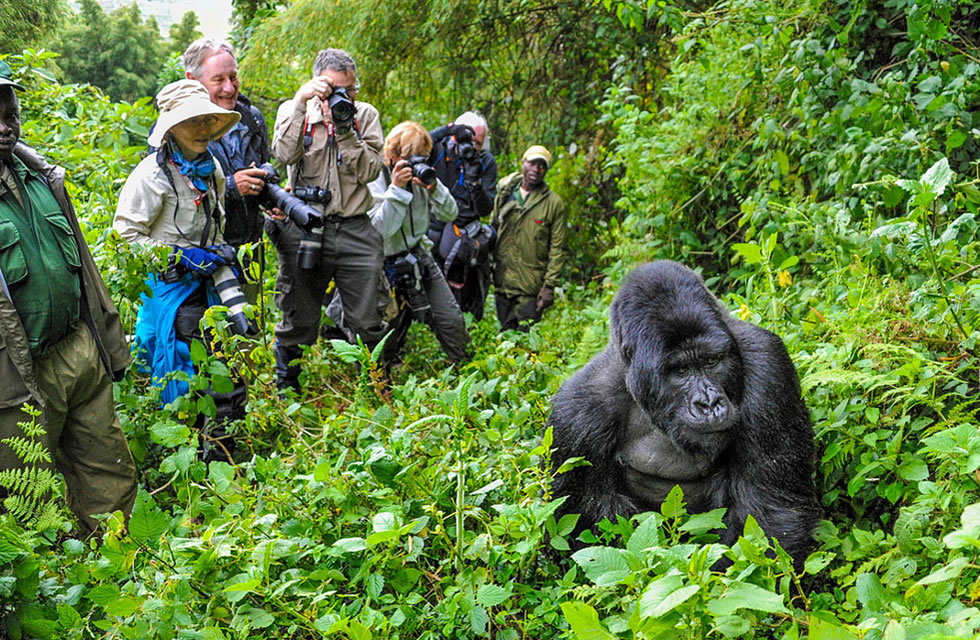 This should be at the top of everyone's list of things to do. Gorilla trekking is an incredibly beautiful adventure which everyone should have a chance to go for in the African jungles of Africa. This nature tour is very unique and is not even possible with most wild animals of any significant size due to the danger evolved.
Do you know that there are only about 880 mountain gorillas left in the wild tropical rain forests of Uganda Rwanda and Congo? No wonder gorilla trekking is one of the top adventures on the bucket list of most adventure seekers who like primate safaris. Today many travelers trek into the deep tropical rain forests of Bwindi Impenetrable Forest, Mgahinga National Park, Volcanoes National Park and Virunga National Park to meet the gorillas in the wild.
Gorilla trekking is captivating as well as little scary to see how human-like the mountain gorillas are. The gorillas have brown eyes which hold a great deal of expression, and their ears and fingers look just like for humans except the color. Having the chance to visit gorillas in Africa and watching them interact with each other, in their home, is a truly magical, once in a lifetime experience. Some people say they would rather go to the Zoo and watch gorillas from there, however the wilderness feel and experience is quite different. You get to see how these human like giant Apes behave just like Man, they come meters closer to you. Some of them touch your hair gently, its such an amazing and moving adventure.
Gorilla hiking takes over two hours and is very possible for anyone with a reasonable level of fitness to go for the gorilla trek. One can always hire a porter to help carry your back pack during the hike and to help you through tough terrain during the hike from the local village! You will have a well trained local tour guide who will guide you through the forest. Upon reaching the gorillas, it is advisable to lower your voices and watch them from a distance of atleast 7 metres. Remember your guide is available to tell you anything you would love to know about the gorillas.
Caution: On a gorilla safari in any of the parks that host the mountain gorillas, never at anytime mess with the mountain gorillas.
Like any ecotrip, after your trek to the gorillas, it is advisable to take an ecotour ie. visiting the local communities or a cultural tour. Whilst on a gorilla tour within Bwindi Forest or Volcanoes National Park, get some time  to visit the orphaned children's performance in the main street and do a tour offered by the local community. You can experience the culture of the local people for very little fees e.g about $30 US takes you to the Batwa village, a brilliant way to lean about th former inhabitants of the forest. So be prepared for the experience of a lifetime, by ensuring you are in shape, have lots of water on the day, have a good camera with you, tips for the porters, and don't forget a walking stick and gloves for the trek.
But the well known gorilla tour in the mountainous area bordering Uganda is one in which gorillas can be seen up close and without any protection. This species is known as the Mountain gorilla and they are endangered. There are less than six hundred left in the world, and half of them are here in Rwanda. A special package can be purchased which allows a person to stay at a hotel and then be transported to a base camp where they are given special instructions on what to do once they come in contact with the gorillas. A tracker then leads a very small group of tourists up into the mountains to find the gorillas. Once they are located they are observed up close. Tourists are allowed to get withing twenty feet of the gorillas.
Plan Your Gorilla Trek
Planning for the best African gateway experience before your death? Visit the mountain gorillas in Rwanda, Uganda and Democratic Republic of Congo. Once you choose to go for gorilla tours in Rwanda or Uganda, you should consider some of the highlights and budget for them in your planning and among them are: porters who will help you carry your backpackers and also give you a hand during challenging spots on the hike. The cost to hire a porter is $15. Hiring a porter for such a nominal fee compared to the actual permit at least provides locals with much needed employment. Some are even reformed poachers and the parks are trying to educate them the Eco-tourism.
The actual hike to the gorillas can range anywhere from 1 to 6 hours. Although usually the most difficult, many people seek to visit the Susa group. Not only is this the largest gorilla group you can visit, it is also a group Dian Fossey studied for years and it is the most difficult trek.
Another sought after group is that guided by Francois Bigirimana – the most famous and knowledgeable guide around. With over 30 years' experience, including working with Fossey, Francois is in a league of his own. Having lived with a group of gorillas for an extended period of time, Francois is even able to communicate with them through grunts, shrieks and chest thumps. He knows the gorillas and they know him.
Although the gorilla trekking experience can be physically demanding the beauty of the forest and surrounding scenery always makes the trekking a worthwhile experience. Once the gorillas are located, all fatigue is forgotten, the joy of finding your gorilla troop will only be overcome by the amazement of watching the gorillas go about their daily routine. The gorilla group is likely to be chilled out and eating celery, indulging in grooming, or involved in some other primal social activity. Looking deep into the eyes of the silver back gorilla is surely the most thrilling and profound wildlife encounter that Rwanda has on offer.
Gorilla Trekking Rules
There are certain guidelines trekkers should follow to ensure their safety and the safety of the gorillas:
Do not trek if you have a cold or flu.
Keep a distance of 7 meters away (the gorillas can still approach you)
No eating or drinking near the gorillas
Keep your voice low and movements slow
Avoid eye contact
The gorilla trekking experience- general schedule of the day
7am Check in at park headquarters. You sign up, drink some coffee and wait around for a bit. Drivers and rangers negotiate group assignments. Once decided, you will meet guides for a briefing.
8am your driver will take you to the start of the trek. Each group has a different starting point. Guides will hitch a ride in one of the cars.
Begin trek with guides, porters and armed military officers.
First 30 minutes will be an easy walk through flat farmlands. Once the forest boundary is reached, the actual trek begins.
Remember, trek length varies (usually between 1-5 hours).
Once you reach the vicinity of the gorillas, porters will stay behind with all bags. Only cameras and whatever you have in your pockets are allowed.
Visitors are allowed 1 hour to observe the gorillas and may take photos at this time. You will observe playing, fighting, eating, swinging on trees among the gorilla family.
Before you know it, time is up and you find yourself hiking back through the forest, past the farmland and driving back to the park headquarters.
You will receive a certificate of completion at park headquarters. We returned at 1:10 p.m. but this will be later if your trek is longer.
Hire Your Own Porter: Though they are typically not included in your permit or guide price, hire one at the park gate. For just $20 a day, he can assist you with your backpack and your water, or help give you that extra push up a hill (a $15 tip at the end of your trip is customary).
One to Watch: Democratic Republic of the Congo the 12-bungalow Mikeno Lodge just opened in Virunga National Park in the D.R.C. While political instability currently impedes travel to the country, Virunga has the highest biodiversity of any park in the world place to track.