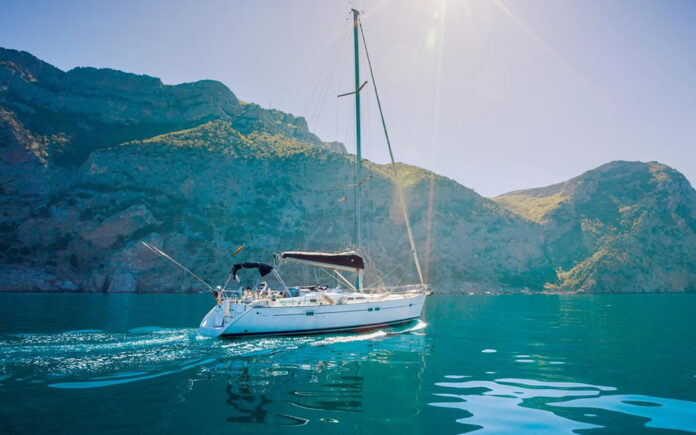 If you are planning your first active holiday, Nidri offers an unbeatable welcome. Situated on the island of Levkas, a beautiful island of contrasting scenery, located between Corfu and the island of Cephalonia in the Ionian Sea. The centre of the island is mountainous and rugged, dropping sharply down to the west coast, where miles of white cliffs guard long, sandy beaches.
The east coast looks out on to a myriad of small green islands silhouetted against distant mountains. It is this sheltered position that makes Nidri ideal for your first introduction to sailing and windsurfing and its mountainous interior is a haven for mountain bikers of all abilities. The development of lighter boats with modern rigs means sailing small boats has never been easier or as exciting.
Day Sailing
We regularly offer day sails, giving you a chance to explore the stunning coastlines and secluded bays found around our centres. Escorted by our safety boats, our larger dinghies are loaded with packed lunches and snorkels, before heading off to a peaceful location for a picnic and swim. Day sails are always dependant on local weather conditions.
Free Sailing
Every day of your holiday you are free to enjoy sailing independently within our designated sailing area. Our constant safety cover ensures you are able to practice new-found techniques or just to potter at your own pace.
Our Dinghies
We carefully select the most suitable boats for each of our sailing locations. While some of our favourite models can be found in all centres, certain high performance models are based mainly at centres like Porto Heli, where they are suited to the local conditions. Please remember kit lists vary and from time to time some items may be withdrawn from use to enable repairs.
Accommodation
Nidri Beach Club – Nidri Beach Club is based at Nicks House, a simple, attractive and traditonal style of accommodation, providing the ultimate convenience for access to the sailing and windsurfing kit. New for 2005, the club will be providing you with a fantastic, sociable holiday in a friendly, relaxed environment.