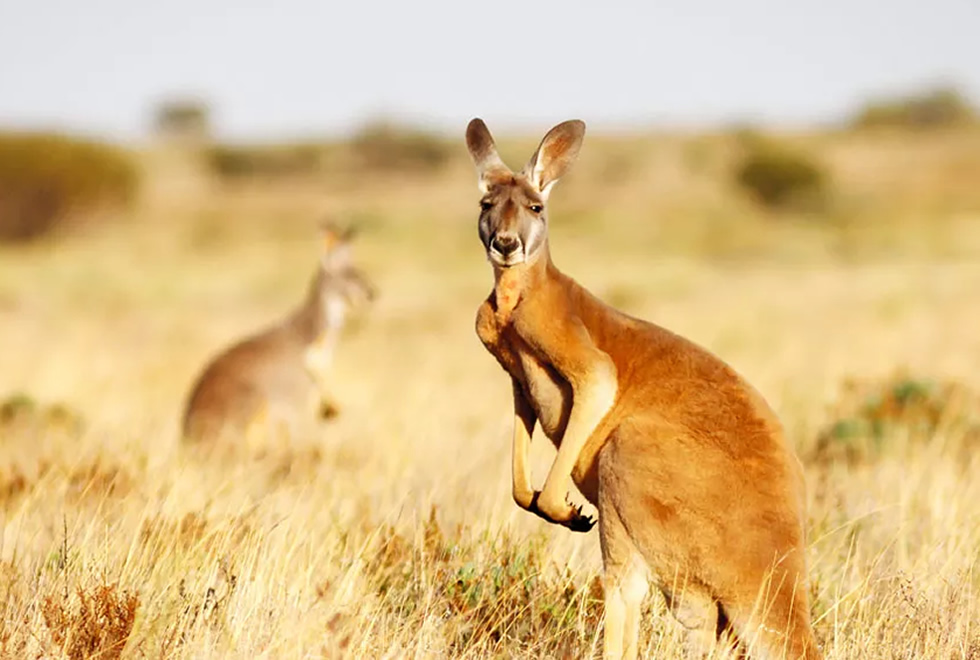 About 40 kangaroos, flocks of galahs and cockatoos – and all before breakfast somewhere east of Broken Hill. It seems almost decadent to be sitting up in bed drinking coffee and spotting wildlife while making no effort at all.
Broken Hill was slumbering in the deep quiet of a provincial town Sunday morning when we pulled into the station. Towering over the station was a vast slag heap – a visual reminder of the wealth underground that brought Broken Hill into existence in 1883.
A few locals were on the station to sell passengers chocolate and second-hand books. We opted to walk off a few calories rather than compound them, so set off into the centre of the town.
An old lady in a purple tent dress was ahead of us, being taken for a walk by what looked like a dingo attached to a long length of twine.
Knowing that Broken Hill was a mining town I'd assumed its centre would be rough and ready, and perhaps, given it was the morning after the Saturday night, strewn with recumbent bodies of miners smelling of XXXX.
Instead, the town was all but deserted and as refined as Geraldine on a Sunday morning, albeit with rather more pubs.
Broken Hill was once known as Silver City and, along with the zinc and lead that is also mined here, generated great wealth.
When a fire swept through in 1888 destroying most of the original wooden buildings there was plenty of cash available to replace these with substantial stone structures.
We admired the turreted post office and several nearby pubs but were puzzling over a neighbouring building when an elderly man carrying two loaves of Sunday bread stopped to help. He'd lived in Broken Hill all his 83 years. He told us that at one time, along with the silver, zinc and lead, enough gold was found to pay all the wages for New South Wales' teachers. He pointed out the historic training institute, the police station and the courthouse.
On our way back to the station past the Curl Up and Dye hair salon I read about Little Willy who came to Broken Hill with a midget circus.
He opted to stay, becoming – at 3 foot 4 inches – the world's smallest miner. Sadly he was killed on a mine conveyor belt.
Back on the station the sales ladies were packing up – "hurry, you're train's leaving" said one. Less than 24 hours into the journey and I'd nearly been left behind.
Lunch of zucchini, goat cheese and spinach tart followed by pear and ginger cake with caramel sauce, came and went against a backdrop of tawny harvested wheat fields and pasture land.
We glided into Adelaide at about 4pm. New passengers preparing to join us were milling around a life-size bronze of a wedge-tailed eagle, the largest of its kind in the world and the symbol of the railway.
We marched, rather than milled, up and down the platform, walking off lunch and hoping to pre-empt any dinner-time guilt.
The bar carriage was full to bursting before dinner – among the crowd South Australian artist Peter Coad who was opening an exhibition of his paintings in Perth later that week. He handed me a brochure of some of his works – baobab trees against vivid Australian skies.
We ate dinner somewhere north of the Gawler Ranges – it was late and the landscape in darkness, shapes flickered past, lights a confusion of dining car reflections, a sickle moon and clusters of street lights.
As I went to sleep the train was swinging due west, pulling us into the great Nullarbor Plain and 478 kilometres of dead straight line – the longest stretch of straight railway in the world.