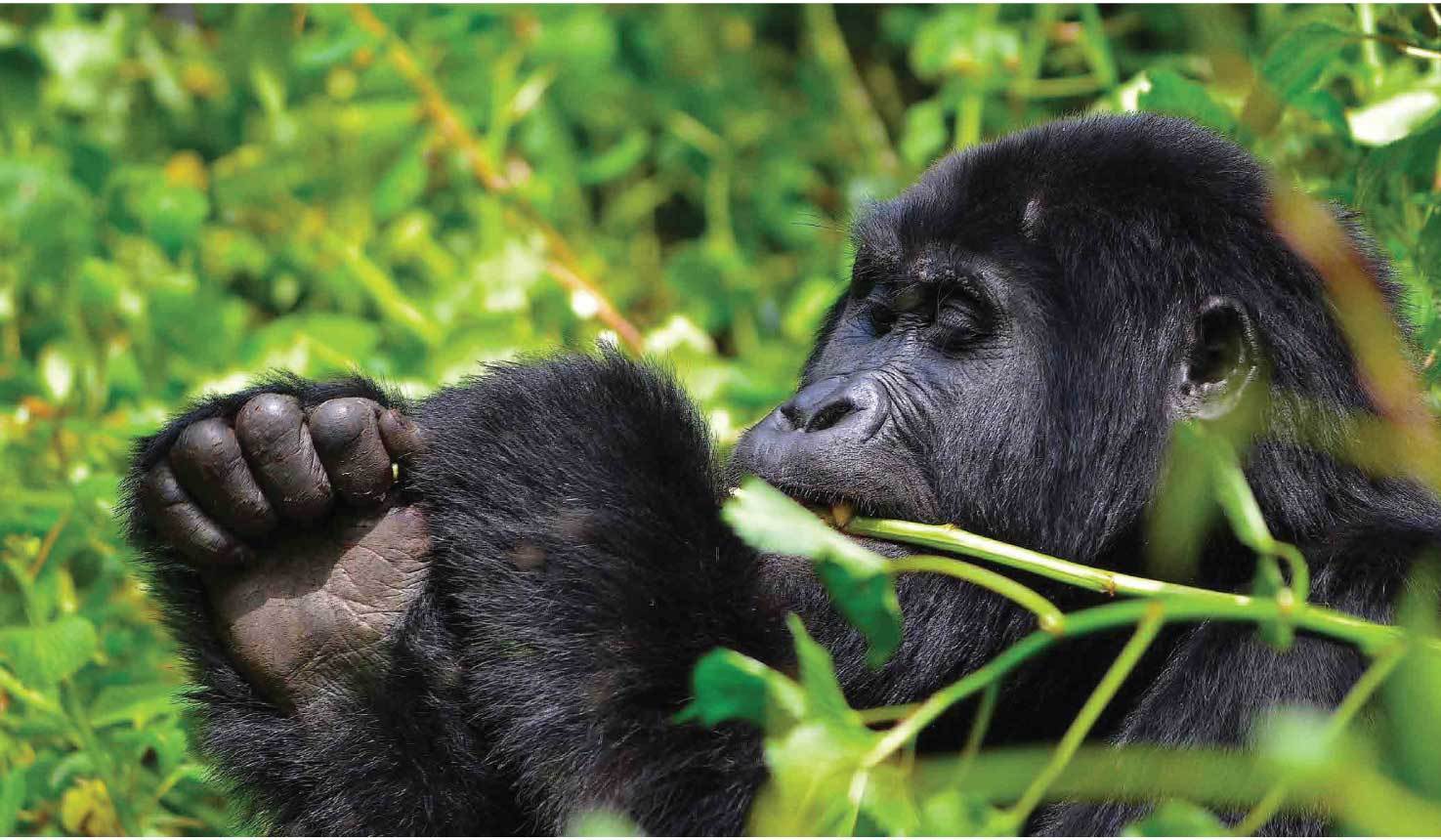 Would you like to see primates on your safari in Africa? There are different countries where travelers can enjoy watching primates while in Africa. For your first primate safari to Africa, I recommend East Africa countries that own the best primate parks like Bwindi forest, Virunga, Volcanoes, Kibale forest, Nyungweforest, KahuziBeiga, Murchison falls, Queen Elizabeth and Gombe stream in Tanzania. In addition, one gets a chance to see best wildlife animals both the wildebeest migration and the big five.
Uganda, The Pearl of Africa
Bring a home to many primate species; Kibale National Park in Uganda has the highest primate density concentration in Africa.Most famous primate species of the country include mountain gorillas, chimpanzees,Blue monkeys, Olive baboons,grey-cheeked Mangabey, l'Hoest's,black-and-white colobus, red-tailed monkey,bush babies,potto, golden monkeys that can be seen during different safaris in Uganda. Mgahinga Gorilla National Park has some of the remaining golden monkey species and gorillas as the prime attraction that it shares with Bwindi National Park. Most popular primate safaris in Uganda are Gorillas and chimpanzee treks that draw thousands to the country and without any of the two a visit to Uganda terns incomplete.
Congo, the Gorillaland
Viewing primates in Congo is an amazing unique experience that many call paradise but booking a primate safari has never been easy if you don't use a help of travel agents. Many travelers who have visited Congo before can agree that primate safaris in Congo are experiencing something unusual unlike other safaris elsewhere in the world. From mountain gorillas tracking, Banobo trek, chimpanzee trekking, and meeting up with low land gorillas, Congo has all kinds of primates including the only living low land gorilla species that live in Kahuzi Beiga National park. Every primate safari to Congo is worth it and tourists have ever regretted a decision to explore Congo gorillas and other primates. Other things to enjoy while in Congo is the hiking safari to Nyiragongo one of the world most impressive active Volcano that is active up to present.
Tanzania – Magical wildlife home
Looking at great safari destinations, nothing beats Tanzania when it comes to wildlife Safaris in Africa but today still the country is one of the best primate countries in the world. This might surprise you as it did before on my side but history confirms that in 2005 conservationists and researchers discovered a new monkey primate species called Highland Mangabey a long haired forest primate that was first discovered in Mt Volcano and Mt Rungwe.Today the most Tanzania offers exceptional chimpanzee trekking safaris in Gombe Stream National park the most populated primate capital in the country. If your interest is primates, don't miss to check out other safari tour activities like game viewing and beach Excursions. Above all Rwanda is another great primate safari destination worth checking out for wonderful gorilla trekking tours, chimpanzee safaris, golden monkey trek etc.
What is the Best Time to Visit
Dry seasons are said to be the best time to visit Uganda, Rwanda and Congo for primate safaris yet primate viewing is a year round activity. Travelers believe rain forests are a little bit dry and treks are manageable. However, each travel season is great in its own way that only those on primate safaris can tell. Africa has variety of attractions though it's most known for wildlife, mountain climbing, birds, culture and primates.